Back
EUROPA STAR : Watchmaking And Science
Europa Star is the 90-year old most respected watch industry publication. It remains family-owned and now at the helm of the fourth generation. Its editorial stance is in-depth, intelligent, and unbiased.
This week we focus on the technical aspects of today's watchmaking industry, with scientific possibilities noted amongst several independent brands, explored by Europa Star. In truth, we do not use a watch necessarily for its primary purpose: reading time. As the article opens, "Technologically obsolete, the art of watchmaking continues largely thanks to the appeal of its ingenious exploits. But even doubling, tripling, or quadrupling tourbillons is becoming old hat. Audiences are getting bored."
New frontiers of watchmaking technology
A total renaissance is possible with mechanical watchmaking. On close examination, Europa Star brings to light that, "at HYT, they take the form of liquids and capsules […]. Greubel Forsey is conducting advanced research into nanotechnology, while Dominique Renaud is focusing on micro-pivots and blades. And those are just some examples […]." One such brand in our view is Hautlence. The brand embodies outstanding technological features in their collections.
Their new model, HL Newton, integrates jumping hours mechanism – classic you will say but wait for it – with the force of gravity. Not only can you watch the beauty of a jumping hours feature, you can also choose when. Indeed, should you not wish to look at the time, the watch turns on mechanical standby mode.
> Discover Hautlence's Universe
HYT
"And what if innovations in watchmaking could benefit other sectors, such as the medical industry, where the issue is less about mastering time and more about mastering life itself? […]
It is into this rich ecosystem that Preciflex intends to diversify. Preciflex is the sister company of watchmaker HYT, which is renowned for its watches in which coloured liquids show the time instead of the traditional hands – thereby putting a whole new perspective on the passage of time, with an intuitive vision of past and future. […]
Might the applications currently used in watches, which are all about mastering the precise movement of tiny amounts of liquid (microlitres) on living bodies and thus inevitably subject to huge constraints (temperature, shocks, etc.), tomorrow be used in the human body for medical purposes"? It is plain, though, that standards in the medical sector will be far more stringent than in watchmaking."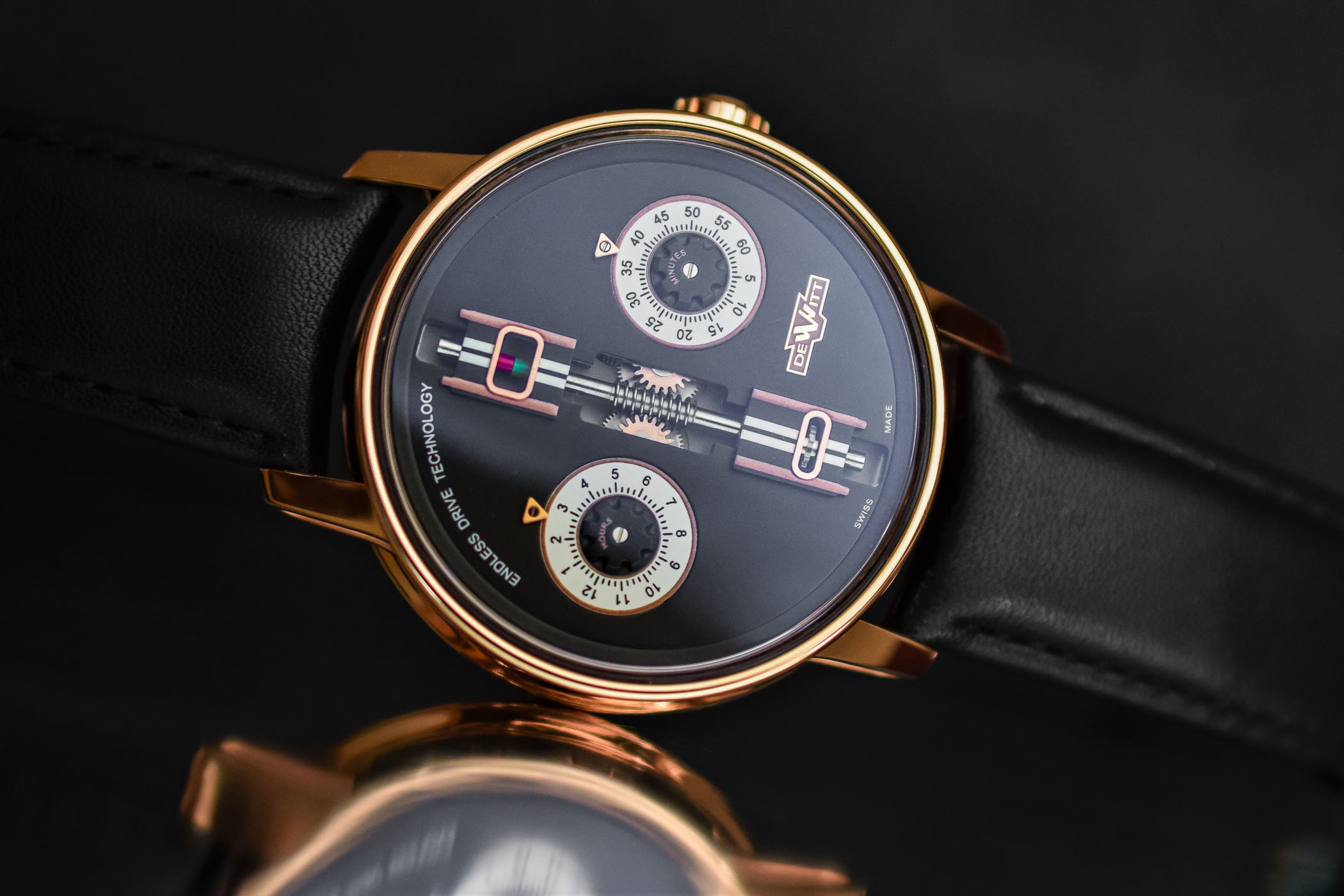 There are other industries that are tightly relevant to watchmaking technologies. The DeWitt Endless Drive, for instance, has its own interpretation of car engineering, very close to Mr DeWitt.  Its power reserve display is indicated by an "endless" worm screw. The screw induces two rotating discs which indicate the hours and minutes respectively, at 3 and 9 o'clock. It also features other automotive-inspired elements such as the "car radiator grille" motif.
Greubel & Forsey
"As for Robert Greubel and Stephen Forsey, they are exploring the astonishing possibilities of nano-mechanisms. At the 2018 SIHH, the duo showcased a fully implemented prototype of their Nano Foudroyante EWT.
This nano-foudroyante consumes 1,800 times less power than a 'normal' foudroyante, and the space this nanocomplication occupies has been reduced by 96%! […]
The space this frees up – huge, the size of a watch movement – means you can start imagining functions as yet unheard-of. So – what kind of functions?" For Stephen Forsey, "this space is just opening up and it's forcing us to think about what we're going to do with it. We've already placed a frequency indicator in it, but what else? It opens up unprecedented prospects for creativity and functionality."
These exciting attempts truly cast light on what mechanical advancements may evolve into. Now, do you think a watchmaking renaissance is possible?
---
HYT video from HYT Youtube Channel
DeWitt Picture from Monochrome Watches
Greubel and Forsey Picture from Watch Collecting Lifestyle